Be Creative at Tory Bush Cottages
Ceramics, Print-Making and Willow-Weaving Weekends at Tory Bush Cottages
Is creating the new travel…? Explore, design and create traditional and contemporary crafts at Tory Bush Cottages. Learn how to make your own functional bone china bottle, explore a variety of printing techniques and create your own canvas shopper…Or make you're a willow garden Obelisk…All in an idyllic setting at the foothills of he Mourne Mountains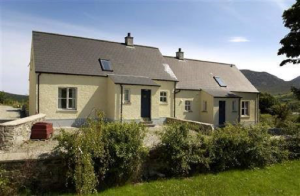 Tory Bush cottages are located just outside Bryansford, Co Down and have won several awards including Gold for Green Tourism. The weekend workshops will encompass a mix of both traditional and contemporary crafts; Ceramics, Print-making and Willow- weaving. Come, learn new skills, make new friends and enjoy home made meals in a delightful rural setting
Our three Makers; Rebecca Killen, Clive Lyttle and Raquel Amat are all both expert and hands on and are very willing to share their expertise.
Rebecca Killen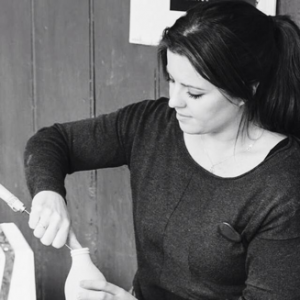 Rebecca is one of the most exciting ceramicists from Northern Ireland at the moment. Rebecca lives locally to Tory Bush. Her ceramic work is inspired by traditional blue and white patterns and is simple and contemporary in form. Her unique China cobalt Bottles have been exhibited all over the UK, Ireland and Japan. In Rebecca's workshop each participant will be given the amazing opportunity to design and create their own bespoke bottle- based on Rebecca's own unique signature bottles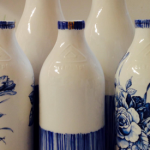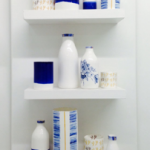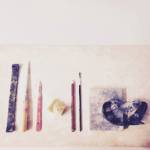 Clive Lyttle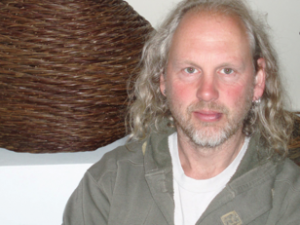 Clive Lyttle's craftsmanship in art of Willow Weaving is exemplary. Clive also works in other traditional crafts such as Basketry and live willow weaving and promotes and advices on may countryside skills Clive is one of the featured makers on Craft NI's craft map. In Clive's workshop we will be making his wonderful garden Obelisk's. If the weather is fine Clive hopes to demonstrate his workshop outside.
Raquel Amat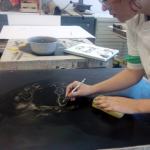 Raquel is the artist is residence at the Belfast Print Workshop. She is originally from Castillon, Spain but has printed all over the World in e.g. Germany and Poland. Raquel uses the techniques of lino cutting, relief and lithography to print and has her own specialist technique of Mokilito. In her Printmaking workshop Raquel hopes to incorporate the beautiful Mourne landscape with its rich and diverse textures and forms.
The workshops will take place in the old farmhouse styled room and in the evenings the group can unwind and enjoy the peaceful surroundings.
No experience is necessary for any of the workshops and new ideas and thoughts and welcome. All workshops will take place in a relaxed comfortable atmosphere with refreshments and home-made scones at breaks.
Dates for Creating Weekends
13-15th May            Ceramics and Willow weaving  £185
24th-26th June        Ceramics and Print Making        £185
2nd-4th September   Ceramics and Print Making       £185
2 nights accommodation at Tory Bush Cottages
2 workshops
Home cooked meals for the duration of your stay
Refreshments during workshop
To Book
Call David or Claire Tory Bush Cottages 02843724328/07710615020/07866928846
Email info@torybush.com or through Facebook at our Tory Bush Cottages page
or download a workshop booking form and post back to us with your deposit cheque.