Houses 7 & 8
House 7 & 8 are two semi-detached 3 bedroom cottages sleeping a maximum of 6 persons.

There are down to the right in the centre of the complex and are painted yellow with blue windows and doors. These two houses are basically identical to houses 1 & 2 though due to site constraints they are a little smaller inside. There is car-parking immediately adjacent to each of the doors of each house for two cars.
The houses are mirror copies of each other with a large vaulted ceiling living room with an open fire and chimney rising to the roof ridge. On one side of the sitting room there is a large patio door with good views of the mountains and on the other side there is a door leading to a small porch and storage cupboard which can be used as a drying room having hanging rails and a radiator.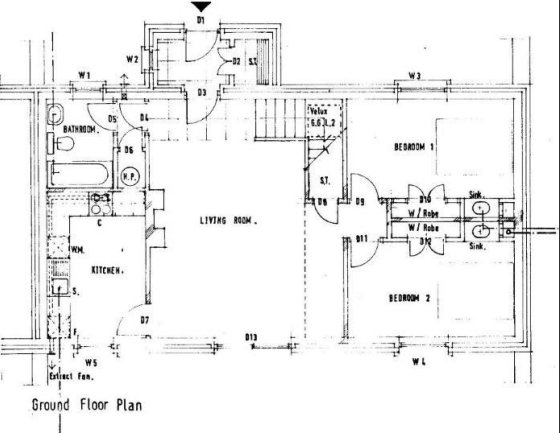 Opposite the fireplace is the staircase rising to a minstrels gallery landing and door into the master bedroom. This room has sloping ceilings as it extends into the roof void and a Velux roof window with tremendous views of the mountains.
This room has a 5 foot bed that can be zipped apart to form two single beds if all single beds are required. Off this room is a small narrow shower-room with toilet and wash hand basin.
Back downstairs on either side of the fireplace are two doors, one leads to the kitchen which is large with all modern appliances,dishwasher, washing machine, fridge-freezer etc. The other door leads to a small lobby where the boiler cupboard is located and then to the Bathroom which has a bath, toilet and hand-basin.
Opposite the fireplace there are two doors leading to the two downstairs bedrooms, these rooms each have a two single beds that again can be zipped together to form doubles. So in these houses it is possible to have either 3 Double beds or 6 singles or any mix in between. Each of these rooms also has a wash hand-basin.
Out side there is a patio with a Park style picnic bench, and a large grassed garden area shared between both houses. This garden is quite secure and relatively private with gates on each of the three exits. This makes these house suitable for family use and indeed for two families holidaying together. One of the gates leads down to the large open space that is a shared grass area available to all the cottage users.