Snow in September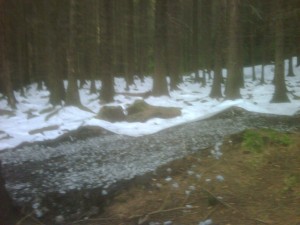 This photograph was taken with my Blackberry phone on Sunday the 12th of September in Tollymore Forest Park, (apologies for the quality, this phone not noted for it's picture taking abilities)  The photograph shows snow in amongst the Pine trees of Tollymore, all I can say is, Global Warming what Global warming??.
But look closer and you see no snow on the track and even more remarkable no snow where I am standing, what can it mean? It reminds me of the old joke, about re-drawing the borders after the  Second World War, and a Polish Farmer was approached and asked if he wanted his farm to be in Poland or Russia, and he replied "Poland, I can't stand those Russian winters."
I have got to own up, it is not snow but sheets of a heavy white paper type material, a bit like the mulch matting you buy in Garden Centres to prevent weeds. The paper is cut carefully around the trees and tree stumps and looks remarkably like snow covered ground even close up.
The truth is,  it is a location for an American TV series which is being shot in Northern Ireland.
The series which will star Sean Bean ( formerly in Red Riding, Sharpe) is called A Game of Thrones,  and is being made by HBO TV, famous as the makers of The Sopranos.  A pilot was filmed in Northern Ireland last year, and if you pardon the jargon the 'pilot was picked up' and filming is now in progress for 9 episodes. Game of Thrones is HBO's adaptation of the George R.R. Martin best-selling Songs of Fire and Ice fantasy-book series. It is described as an epic struggle for power set in a vast and violent fantasy kingdom.
One of the reasons Northern Ireland was chosen  was that the interiors are being shot in the former Harland and Wolf Paint Hall one of the last remnants of our  ship building tradition and is now the indoor largest Film and TV production stage in Europe .